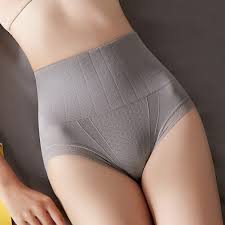 All about Shapewear Thongs | Look and Feel your Best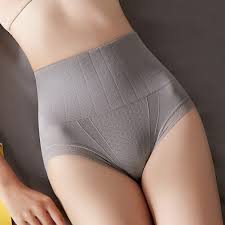 Shapewear Thongs underwear are designed to help women achieve a slimmer, more streamlined silhouette. Often made from compression fabrics, shapewear panties can help to smooth out bumps and lumps, creating a sleeker look under clothes. While some shapewear items are meant to be worn as outerwear, others are designed to be worn underneath clothes, providing discreet support such in the case of tummy control thongs.
There is a wide range of shapewear panties items available on the market, from simple body-shaping briefs to full-body suits. And with new materials and technologies constantly being developed, shapewear is only getting better at fulfilling its promise of a flawless figure. Whether you're looking for a little extra support or want to achieve dramatic results, shapewear can help you achieve your desired look.
Overview of Shapewear Thongs Underwear
In this context, "knickers" can also refer to a thong that rises higher than typical on the torso. They can be worn as low as the belly button, to smooth the lower abdomen only, or as high as the bra line. You can prevent them from riding down with the help of the clips included on some tummy control briefs that reach your bra.
If you want to appear your best for a special occasion or just a night out with friends, the best thong shapewear can help you achieve your goal. This shapewear is a lifesaver for women who want a quick fix for stubborn fat that won't go away with exercise alone. It also helps for hiding your unwanted cellulite on legs and booty. Belly fat is ugly and can ruin a good look of even the finest garment.
The use of shapewear thongs produced from breathable material can do wonders for concealing unwanted fat and preventing discomfort. Thong shapewear, as the name suggests, is fashioned like a thong and extends above the belly button to cover the abdominal area.
You have a wide variety of options to choose from because these come in numerous cuts, styles, shapes, and sizes. In other words, the next time you want to wear a dress, skirt, or pants but feel self-conscious, you shouldn't hesitate to go out and buy yourself the perfect pair of thong shapewear. However, there are a lot of options, so it could be overwhelming for you to decide.
Benefits of Shapewear Thongs
• Tummy Control Shapewear Thongs
Women's thong shapewear has a two-layer midsection construction for maximum compression to reduce the appearance of a protruding stomach. This body shaper thong will help you achieve a trim and attractive appearance.
• Seamless, Undetectable Briefs
Comfortable and convenient all day long thanks to the seamless, silky, stretchy fabric. The women's high-waisted thongs won't show through any fabric, so you can feel confident wearing them to work. These shapewear tights are ideal for wearing beneath dresses and jeans.
• Attractive Appearance and Comfort
Panty with Elastic hole for simple bathroom access; removable, adjustable straps; open breast design for ease of use; match with your preferred bra for a completely bespoke fit. Thong designs.
• Firm Command and Compression
Shapewearr thongs are made to shape the midsection and the buttocks in particular by compressing the stomach and lifting the buttocks through the use of targeted double tummy control.
• Comfortable and breathable.
High-quality nylon and spandex go into the construction of shapewear thong pantyhose for ladies. Comfortable to wear all day, this tummy shaper thong may be adjusted to fit ladies of varying sizes.
• 360 degrees Shaping & Stay Put.
Waist-slimming capabilities are built into the design of this women's high-waisted thong. With an anti-slip steel-bones waistband design, the tummy control thongs shaper will never slip or slide. Maintain a flawless physique.
Types of Shapewear Thongs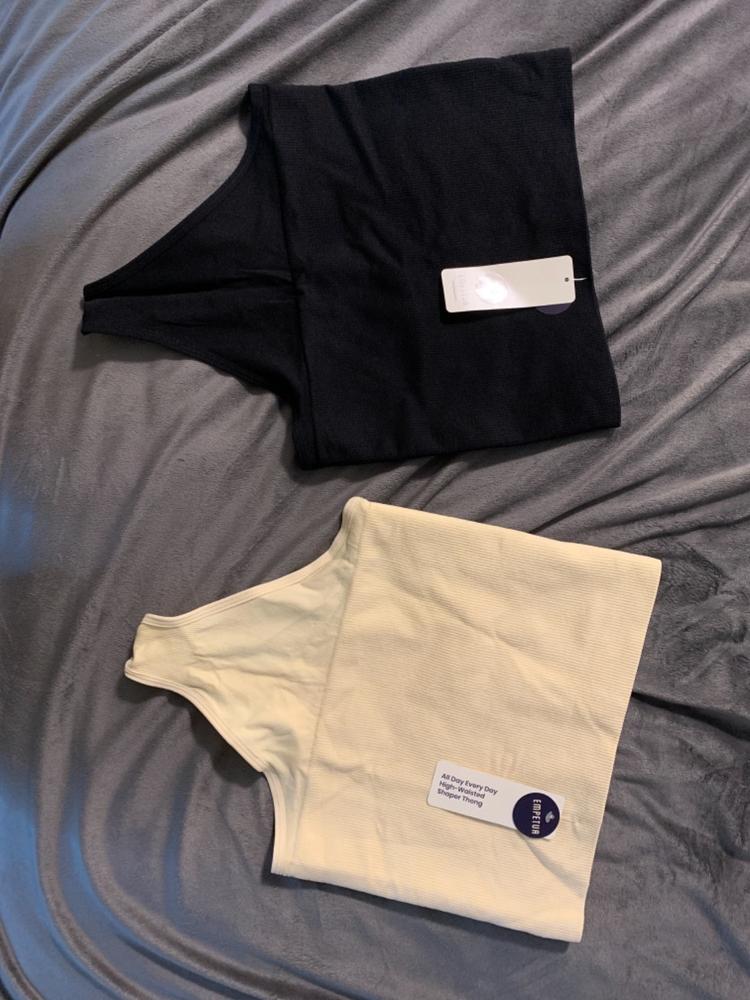 High-waisted Thong Shapewear
Thongs that hit higher on the waist provide more room in the band to help smooth over your stomach. Your waist will appear smaller and more feminine thanks to the medium-firm control in that area. In addition, the elastic girdle makes sure the shapewear fits any body type perfectly, leaving no unsightly creases in the pants. Wearing high waist thongs is a great approach to alleviate back pain and maintain correct posture. Fabrics of the highest quality are wrinkle-free, stretchy, and comfortable to wear. Get rid of flabby skin and excess fat around your midsection with the help of this wardrobe essential.
Brief Shapewear Thongs
Slenderize your midsection, waist, and stomach in a pair of shapewear brief thongs. As opposed to certain other forms of shapewear, this option does not sacrifice one area in order to correct another. Everything stays exactly where you put it, which is a huge plus. They are also light and airy, making them ideal for all-day wear. You'll maintain a healthy posture and have your shapewear remain securely on your waist when you wear a brief thong. As a result, you can feel better about yourself in your outfit choices for formal events like weddings, birthday celebrations, official dinners, and parties, and even just everyday life thanks to the confidence boost that comes with wearing shapewear.
Hipster Thong Shapewear
Just like a bikini, hipster thongs are a form of shapewear that sit low on the hips. The high-rise cut and flat, bonded seams of the shapewear conceal your figure under clothing. The soft, flexible material ensures a snug but comfortable fit. The one-piece garment's emphasis on core control is achieved by its ability to cinch the waist and trim excess fat from the abdomen. Because of the high level of fit, the shapewear will not roll down thanks to a silicone band along the bottom. Hipster thongs are a terrific piece of shapewear to complement your new cocktail dress because they are airy and comfortable. Puedes leer este articulo en Espanol sobre las tangas moldeadoras aqui.
Thong Bodysuit Shapewear
Everything about a thong bodysuit shapewear set is made to make you feel and look like a million bucks. The bodysuit body shaper thong helps you look and feel your best by tightening your body, providing superior back support, and enhancing your posture. The shapewear has firm tummy control that is strategically placed to smooth out your midsection's natural contour.
As a result of its tightness in the abdominal region, shapewear can improve one's posture whether one is standing or sitting. In addition to improving your posture, the thong bodysuit shapewear flattens your stomach, slims your waist, and gives you an hourglass figure. You should definitely add this body shaper to your wardrobe, as it will serve you well both before and after giving birth.
Seamless Shapewear Thong
Seamless thongs are an excellent option for slimming the waist and enhancing the natural curve of the buttocks. This body shaper is designed for long-term, daily use; it is breathable, soft, and discreet, so it won't show through your pants. The body shaper is among the best thong shapewear for women due to its ability to firmly trap fat at the back of the waist, providing optimal stomach control.
Under any outfit, from jeans to a wedding dress, seam-free thong shapewear can smooth and flatten your stomach. You can wear it under a skintight dress and flaunt your hourglass form in subtle comfort and sexiness.
Having said that, don't fall into the trap of thinking that a lower sample size will yield better findings. Trying to lose weight by skipping a size could put unnecessary strain on your internal organs and lead to unsightly bulging as a side effect.
For the most ease, stick to your size and pick something quite simple. Bodycon dresses and slinky slip skirts are just two examples of the summer styles that benefit from the shaping essential, which may not be as necessary as your everyday bra but is still highly recommended. Given this, we have compiled a selection of the most effective thong shapewear currently available online. There's something on the list for every compression style and price point, from extra-wide waistbands to high-waisted cuts.
What is a Tummy control thong?
The traditional control thong provides mild compression, just enough to help ladies feel smoothed but not suffocated. We wanted our tummy control thong to be comfortable and flattering, so we made it out of raw-cut European cloth for a seamless appearance. The ideal shape was achieved after being worn by real women.
Fabrics for Shapewear Thongs
It's safe to say that there are two sorts of fabric that rule the roost in the basic clothing sector. Compression/control and softness/comfort are achieved by a variety of elastane (spandex) and polyamide (nylon) blends. There is a wide variety of compression levels available for shapewear, from mild to severe, from smooth to sculpted. A garment's cut also plays a role; fashions with carefully placed seams and elaborate panels provide more obvious fitting and shaping.
Tips for Buying Shapewear thongs
When buying shapewear thongs and underwear these are the main point you could consider to get the right one for you.
• Chose Shapewear Thong Fabric
The underwear you wear is incredibly close to your skin, making the material incredibly important. Because of its absorbency in moisture and capacity to dry quickly, high-quality cotton fabric is frequently chosen. If you must wear something fancier, try to get one that is lined with cotton at the crotch at the very least.
• Thong Comfort and Fit and Looks
An item that is worn so closely to the body should be soft and supportive. The shapewear briefs shouldn't cause any irritation or redness by digging into your skin. The right fit will keep you comfortable and provide necessary abdominal support. Having full-coverage pants on would give you more self-assurance as well.
• Seams
Good tailoring and seamless construction at the waist and hems prevent unsightly creases. The goal of wearing any type of shapewear is to improve one's appearance without drawing attention to one's undergarments.
• Washability
Shapewear thongs are designed to flatten the stomach that can be machine washed is convenient, but it's even better if it doesn't lose color or shrink, and keeps its original shape and texture even after several washings.
• Colors
Shapewear undergarments are often made in dull neutral colors by most apparel manufacturers, but they would be a more appealing everyday garment if they came in a variety of colors while yet maintaining the same fit, comfort, and support.
Ready to get your new Shapewear Thong?
Wearing tummy control underwear under form-fitting clothing will hide any flaws you might have. You can wear these under your favorite formal attire, such as a gown or a bodycon dress, without sacrificing your comfort or your sense of taste.
Choosing the best belly control underwear requires thinking about both the type of cloth used and the washability factor. You want to make sure that your clothes don't shrink or fade with repeated washings. The thong shapewear's waistband and leg holes should be securely stitched to prevent bare skin from showing.
It's best to go with shapwear thongs that can be adjusted to fit your body snugly but comfortably and that won't fall off easily. However, you should stay away from shapewear that isn't smooth or that causes sweating. To those who have read this far, I say thank you. You are now prepared to search for the ideal shaperwer thong for your event or for everyday use.