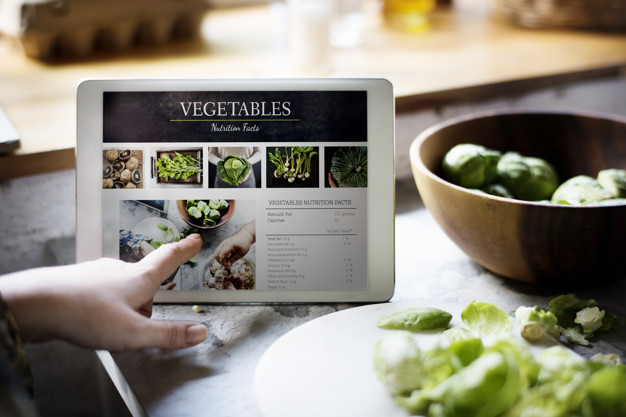 24 Best Cooking and Recipe Websites To Bookmark In 2022
If you love cooking, you probably know the feeling that comes with seeing people enjoy your meals is priceless. Thanks to the internet, almost everyone can prepare a meal. But, only if you know where to look for the best recipes on the web. So here's the deal, I'll show you the 12 best cooking and recipe websites, and you'll make some of the best meals for you and your loved ones. Sounds like a deal? Let's get to it.
1. All Recipes
All Recipe is a pretty popular website boasting about 25 million visitors monthly. The website has a database of thousands of recipes for a perfect meal for your family, friends, and visitors. The detailed recipes and rich instructional videos will walk you through all the steps of making an excellent meal. You'll also love the highly interactive cooking website where everything is easily accessible.
All Recipe also has additional features that'll enable you to create your profile so you easily gather and save your favorite recipes. You'll also be able to create and share your original recipes with other cooks around the world.
2. Food Network
The food network has been in existence since 1993. Talk of the old kid who's been serving timeless recipes before some of us were even born. How cool is that! You'll love the mix of classic and modern-day recipes, each carefully crafted to withstand time so grandma (and grandpa) can still enjoy meals from back in the day.
Maybe that's why this delicious recipe website has such a huge following from its TV, Magazine, business, and amazing podcasts. Its comprehensive videos will walk you through all the steps of preparing and serving an outstanding meal. Food network's experts have dedicated their lives to handpicking recipes you and your loved one will enjoy.
3. Bake Me Some Sugar
Bake Me Some Sugar is yet another incredible recipes website that came into existence in 2018. It boasts tons of recipes meant for both new and experienced cooks. You'll love the insight on ingredients and the exhaustive step-by-step guide meant to give you an easier time in the kitchen. This website for recipes also boasts easy navigation and a highly attractive interface so you can easily access the recipes.
4. Meal Prepify
To give you the best user experience, recipes from Meal Prepify are made with three critical things in mind:
Healthy eating
Time consciousness
Cost-effectiveness
The recipes and cooking guides are also excellent for people trying to lose weight and those looking to build muscles as well. The site is out to help you adopt a lifestyle that'll help you live a healthy life. Want a taste of it? How about you head on to the site?
5. Foodies Terminal
Looking for some simple and easy-to-follow recipes? Foodies Terminal is here to take your cooking skills a notch higher. This cooking site has a collection of great recipes with a fair mix of modern and classic. These are here to ensure you enjoy every meal on your plate to the last bit.
The site has been serving amazing recipes since 2018. And, it only gets better. Foodies Terminal has been mentioned by Yahoo, Parade, and Kansas Living magazines due to its excellence. The easy-to-navigate and attractive site will make your experience even better.
6. Delish
Since it was created in 2008, Delish has been home to tasty and healthy recipes. Its team of experts continues to create an excellent mix of recipes from back in time and new ones. All so you can enjoy tastier and healthy meals.
Its highly interactive interface allows users to find recipes and ingredients using simple keywords. Easy, right? But, there's more. You'll enjoy the comprehensive instructional videos and the informative articles on food and nutrition.
7. Morgan Boulevard
Are you a vegan? Then here's something for you. Morgan Boulevard brings the most nutritious, simple, and cheap recipes vegans can easily follow and make enjoyable meals. But, it's not only about cooking here. The highly interactive site also has a section for holiday suggestions so you and your loved ones can have an enjoyable get-away.
8. Yummly
Yummly features some of the best recipes of all time. The website has a database of 2 million simple, nutritious and cheap recipes you and your family can prepare and enjoy at home. The site allows you to create a user profile and use it to save your recipes, even your shopping list. You'll also love the comprehensive instructional videos for your step-by-step guide in the kitchen.
9. Epicurious
Epicurious boasts a huge following, thanks to its quality recipes. For over 20 years, creators of Epicurious have gathered 50,000 recipes. Too few, or so you think. Well, each recipe is carefully handpicked, tested, and tailored to bridge the nutritional gap in every user. Because of the vigorous process of filtering and selecting these recipes, you can have complete trust in them.
10. Kitchn
Kitchn boasts a whopping 17 million followers religiously visiting the site every month for its simple, healthy, and tasty recipes. The website has been the home to the sweet aroma and tastier meals since its inception in 2005. And for this huge following, Kitchn publishes 20 articles every day on cooking tips, simple recipes, kitchen appliances, and beautiful kitchen design ideas.
11. Productive Mama
For all you experienced and new cooks, productive mama has a dedicated part of its site to tackle everything on nutrition, health, and wellness. Did I also mention the carefully crafted recipes the site has? Well, these can make your cooking experience even better. The site also has sections on tech, money, time-saving, and homeschooling so you have everything under one roof.
12. The Spruce Eats
The spruce eats is one of the most trusted and practical sites on recipes and cooking. It covers all-around nutrition and food. You'll enjoy simple recipes that are less costly and highly nutritious. Further, the site has very comprehensive articles on food.
A lover of classic recipes? Awesome. Love modern-day recipes instead? Good. The site gives you a taste of both. There's also a section for cocktail lovers. Further, you'll love browsing different ingredients from every corner of the earth. Oh, and if you don't do so well with write-ups, then the instructional videos and high-quality images will serve you right.
13. 100 Healthy Recipes
In for a special treat? Then 100 Healthy Recipes got nothing less. Here, you'll enjoy top-class recipes to bring light to the eyes of your loved ones (and yourself, of course). From dessert to main meals, you'll have an easier time in the kitchen.
14. Consumer Queen
Consumer Queen has top recipes for experienced cooks and novices. The top-ranges recipes are cheap and easy to prepare. The website also features a lifestyle section with real-time movie updates, the red carpet, and celebrity news.
15. Kitchen Dreaming
Here, you'll find healthy recipes that easy and take a short time to prepare. Yes, you can still eat healthy even with a hundred and one items on your to-do list. Kitchen Dreaming went live in September 2012 with people with an undying passion for cooking behind it. And since then, it only keeps getting better.
16. Denver's Dancing Dietitian
Denver's Dancing Dietitian does more than just offer you healthy recipes. They get involved. They help you form a healthy lifestyle. The site features everything you'll need from weight loss to eating disorders, food intolerance, and nutritional counseling.
17. Living Well 2-Day
Living Well 2-Day has not only easy recipes but hands-on tips on home and general family issues, too. They also serve endless tips on DIY, homeschooling, budgeting, and more. Talk of having everything you need to ensure your family stays healthy under the same roof.
18. Somm's Table
If wine is that one thing that rarely misses on your meal table, then Somm's Table is where to look. They have excellent wine choices to complement a perfect dinner date (or any meal) with your loved ones. If you are a fan of wine and dine, and are looking to set the mood right, head over to their site, they always have something 'cooking'.
19. Older Slightly Wiser
Older Slightly Wiser features easy-to-prepare gluten-free recipes for those allergic to gluten. The site takes a mix of professional and life experiences of their team members to deliver the best tips on healthy eating and general wellness.
20. Pump and crunch
The team at pump and crunch are health and fitness enthusiasts who will stop at nothing in the quest to inspire a healthier, happy community. So, the website isn't the home to simple healthy recipes only, but tips on adopting a balanced lifestyle, too.
Since they are fitness enthusiasts, too, you'll find lots of workout tips to keep you in shape. Rushed there already? Why not?
21. Mountain Mama
I know you love food (I do, too. A lot). But healthy living doesn't only revolve around food. The team at Mountain mama knows that, and that's why the site features not only healthy recipes but some pretty cool gardening and decorating tips, too.
It's never a dull day here. And there are tons of informative articles that could teach you a thing (or two).
22. El's Kitchen Comforts
El's kitchen comforts is the home to some of the most delicious recipes you'll find today. They are also easy to prepare and are super-healthy. The team is pushed by passion, and undying desire to see a healthy following, you can tell that from what they have in store for you.
But that's not all. For fashion enthusiasts, you have something to smile about, too. The site features a fashion section where you can get the latest trends.
23. Wikye
Wikye is not your ordinary cooking and recipe website. The team takes it a notch higher. Apart from housing some nutritious and easy-to-prepare recipes, the site is the home to top lifestyle and celebrity news.
The site also has sections for business, culture and endless tips for developing a positive mindset. Anything for fashion lovers? Definitely. You'll have real-time updates on the latest trends.
24. Keto Comfort
Dear Keto dieters, we love you. Here's something for you. Keto Comfort has some of the most practical Keto tips you'll come across today. From free e-books to multiple resources, the site has a lot of goodies in store for you.
They'll also soon start uploading some fire recipes you wouldn't want to miss. Head over to their site.
It's a Wrap
Everyone is a good cook, you just haven't discovered it, yet. Above are the best cooking and recipe websites that'll horn your cooking skills so everyone enjoys your meals. Run to your browser and make you and your family something you'll enjoy eating.