Top 5 Color Options for Your Kitchen Countertops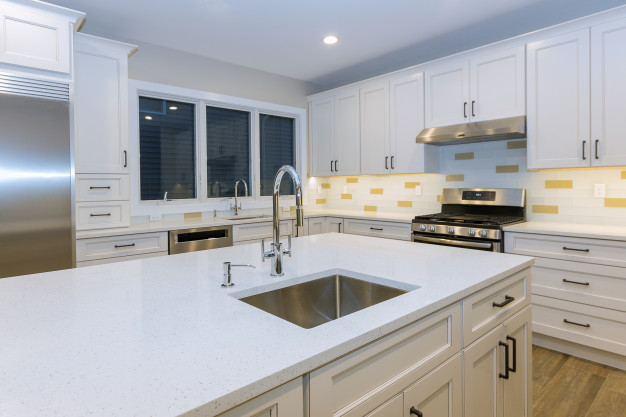 When selecting the color of your kitchen countertops, it is recommended to consider the bigger picture and go for timeless colors. Neutrals are also easy to paint over in case you get second thoughts about your choice of color, or you decide to renovate your kitchen. Color coordination is vital, with dark cabinets going well with lighter countertops and vice versa. Here are some of the best color recommendations for your kitchen countertops.
1. White
White may pass as the most sought after countertop color due to its elegance and simplicity. White countertops give off a look of freshness, cleanliness, and sophistication. Keep in mind that white colors come in a wide range of shades, from blue and gray to yellows. It is an excellent choice if you want your kitchen space to look as big as it can get.
Pure white countertops are mostly available in manufactured materials like Corian. The good thing is that they are easy to maintain due to their high stain resistance. However, pure white is rare to find and can easily show dirt. A better option would be to go for speckled or veined whites, which is easier on the eyes and conceals spots better. Be careful when choosing white shades to avoid ending up with a washed-up looking countertop.
2. Dark/Black
Dark-colored countertops are best in well-lit kitchens with large windows that allow sufficient natural light for a cozy feel. If you already have dark features in your kitchen such as floors or cabinets, black countertops can fit right in.
However, if your cabinets are dark, having black countertops can result in a cold feel. You may, therefore, want to use black-on-black countertops to create contrast in a light-colored kitchen.
Consider black countertops on white cabinets for contrast. Align the color of your countertops with other elements in the kitchen like knobs so that the countertops don't pop out in the wrong way. Dark countertops work well with new appliances and light-colored cabinets.
3. Gray
Gray is subtle and gives your kitchen a delicate and serene look. It is the most neutral look to go for and works well with colorful cabinets. Grey countertops will seamlessly fit into your black and white theme and soften the existing sharp contrasts.
Other than going for the entirely grey look, you can choose speckled grey. It hides spots better while giving off a clean look without being too distracting. If you have metallic accessories in your kitchen, grey countertops will really bring them out. Other midtone colors to choose from include cream and beige for cabinets with yellow undertones.
4. Dramatic Colors
When it comes to adding life to your kitchen counters, you are not limited to safe and laid-back colors. Dramatic colors such as blue, green, and maroon, or stones with bold veining will add a splash of color to your kitchen and make it stand out. They are particularly ideal for dark cabinets and large kitchen spaces.
If you decide to opt for boldly colored countertops, ensure that the rest of the colors in your kitchen are toned down. This is to prevent your kitchen from looking too busy and overwhelming.
5. Wood
Wood offers versatility that can fit both in a traditional and contemporary design. They can either be light-colored for a rustic look, or dark stained for a polished and more contemporary feel. For a conventional kitchen, wood colors with red or brown undertones are ideal while cool undertones like ashy grey are more modern. When it comes to wood colors, it is better to stick to one color family to avoid ugly clashes. 
Your choice of colors will always boil down to personal preference. However, knowing what colors work best in different situations will help you make an informed decision. Consider the above color options for your kitchen countertops and improve the appeal of your kitchen.