5 Ideas for Making Men's Bedroom Cool and Stylish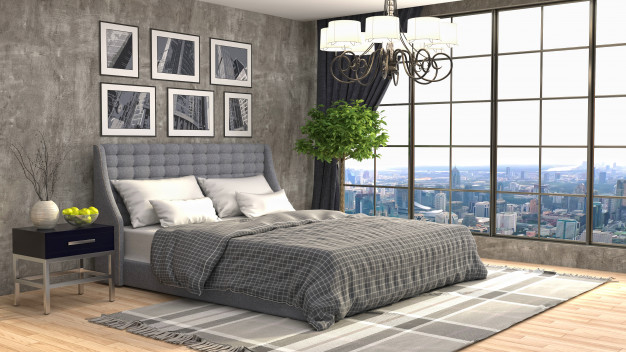 (Image credit: Freepik)
Your bedroom is where you go to sleep, relax, and recollect after a long day. It should be your haven as well as a place you enjoy spending time in. While it may seem tasking to decorate a man's bedroom, you can easily pull off a masculine, stylish, and intimate look without compromising on comfort. Here are a few simple ideas for making men's bedroom cool and stylish.
1. Go for Neutral Shades
For a strong masculine feel, a neutral color palette is ideal when choosing the color scheme to use in a man's bedroom. Grey, black and white are popular yet functional color choices that exude elegance and style. Other colors to consider include earthy browns and inky blues, and deep greens. The best way to do this is by choosing colors that exist in nature.
If mixing black and grey seems too harsh, you can even it out by adding warmer elements such as wool and linen. Also, incorporate leather and metallic elements for a true masculine feel. The combination of metallic, leather, and wood elements create a contrasting effect and adds texture to the room.
2. Invest in a Wallpaper
You don't have to paint an accent wall to have your bedroom wall popping. Wallpapers can do wonders in transforming your otherwise basic and plain bedroom wall. The good thing is that there is a variety of styles to choose from ranging from 3D wallpapers to custom wallpapers with images of your choice.
For example, you can easily achieve a rustic style with 3D wallpapers that mimic uncut stone, bricks, or wood without spending much on rustic accessories. Depending on your taste and style, Photowall can help you create custom wallpapers to help you add character to your bedroom wall.
3. Adopt a Minimalistic Design
Keep your bedroom functional and simple by adopting a minimalistic design. You can do this by ensuring that you only keep the things you need in your bedroom and avoiding clutter. Get rid of unnecessary furniture as well as decorative items to give the room a simple and neat look. Also, declutter your closet by getting rid of any items you no longer wear while remaining with your favorite pieces.
To prevent the room from appearing cold and lifeless, incorporate abstract art pieces and subdued patterns as they work well with a minimalistic space. However, be careful not to go overboard with patterns and hues to avoid ending up with a maximalist vibe.
4. Lighting
Natural lighting is your best bet when it comes to flattering the colors in your room and making it look airy and spacious. However, you should also invest in lighting that is both functional and aesthetic. Get a dimmer switch to help you change the mood of your bedroom whenever you want as it allows you to dim the lights as you please.
For rooms with high ceilings, opt for ceiling lighting. Floor and wall lightings work well with smaller rooms as they are not overwhelming in a small space. Also, consider edgy bedside lamps such as anglepoise lamps for a masculine and stylish feel.
5. Add a Pop of Color
A man's bedroom doesn't have to be dull or immersed in the grays and blacks. Add a pop of color in the form of a bright-colored pillow on your bed or bedroom couch, a conspicuous artwork, or bright colored sheets. When paired with a dark or subdued background, the warmer colors bring in stark contrast and adds drama to the bedroom.
What's more, adding a few colored accessories is an easy way to brighten up your bedroom without trying too hard. As you choose the colors to brighten up a rather dark space, be sure to maintain the color scheme of the bedroom.
While the above ideas can help transform a basic man's bedroom into a stylish and elegant sanctuary, the choice of décor all boils down to personal taste and preference. Don't be afraid to explore whatever ideas you may have until you find what best works for you. Remember, your bedroom is your personal space and you need to make it comfortable and appealing for you while remaining cool and stylish.