9 Benefits of Having a Website for Your Small Business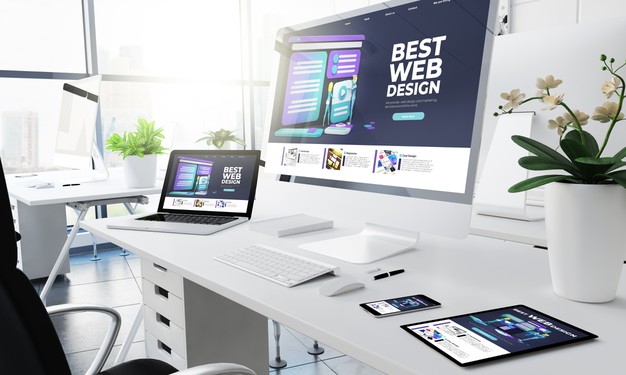 According to statistics, up to 40% of small businesses choose not to have a website the growing importance of online presence for businesses in today's digital world. As technology continues to revolutionize business operations and influence consumer behavior, having a website for your business not only has an impact on your company's image but also your growth.  If you are a small business owner, below are 9 benefits that come with having a website for your small business.
1. It Builds Credibility and Authority
Having a website for your small business builds credibility by providing proof of its existence as it comes complete with your address and contacts. While a social media page may provide information about the existence of your business, a survey shows that 84% of consumers believe that a website makes your business more credible compared to a social media page. When creating your company's website, you should also get a company email to match instead of using a generic email.
A website can also set you up as an authority in your field if you regularly post informative and valuable content. This can be in the form of blogs, podcasts, and even virtual seminars. Your authenticity and resourcefulness will attract more traffic as more people will come to you for answers relating to your niche. Once your audience trusts you to solve their problems, buying from you becomes easy.
2. Increases Brand Visibility
If you just launched your small business, one of your top priorities is creating awareness about your company's existence, what it does and the value it brings to customers. A website allows you to increase your visibility by making your business discoverable online. The more discoverable your business is, the higher the number of potential clients.
With a well-optimized website, you can rank higher in search engines and pop up on searches relating to your niche. Other ways to boost online visibility and recognition is by getting authoritative sites to link back to your website, linking your business website to your social media accounts, and posting useful content that increases traffic.
3. Acts as a Powerful Sales Tool
As a small business, a website can be your greatest sales tool that helps you promote your products or services and address customer needs. Since your website is where potential clients can seek out reliable information about your brand, you can use it to offer buying information that influences them to buy.
Websites also help you learn your customer's needs and then come up with a sales funnel that leads them to finally purchase your products or services. The more information you give about your products and services, the more you appear on search engines. This translates to higher chances of converting leads into loyal customers.
4. Provides Customer Insight
Understanding your customers is key to formulating a working marketing strategy. With the help of analytic tools such as Google Analytics, you can use your business website to gather important information such as customer demographics and location, how they find your site and what pages they mostly visit.
You also get information on how much time visitors spend on your website and whether or not they come back. Website analytic tools not only help you make informed decisions regarding your marketing campaigns but also tracks your progress in real time.
5. Saves Money on Advertisements and Printing
Traditional advertising techniques such as print media are costly and as a small business, you need to exploit every cost-saving opportunity. A business website helps you advertise your products and services to a large audience without compromising advert quality. You can do this by promoting your business website on social media, and creating a corporate blog to inform and convince your audience.
Other than advertising, your website can also act as your business catalog where you showcase your products and services. This way, you don't have to print catalogs and brochures for every new product or service as you can easily update your content without incurring any charges.
6. Grow Your Email List
Email marketing is a marketing asset for any business regardless of size. Through compelling call-to-action and sign-up forms, you can easily collect email addresses of your website visitors in exchange for monthly subscriptions or unlimited content. This grows your email list and boosts your leads.
You can send your contacts content relating to your products or services, notify them of new arrivals and offers, and update them about what is happening at your company. Not only does this compel your email lists to do business with you, but it also builds your reputation and increases your revenue in the long run.
7. Better Customer Service
One of the biggest advantages of having a website for your small business is improved customer service and better interaction with your clients. This is because people can easily find information regarding your business and its offerings at the click of a button. A website also makes it easy for clients to contact you directly and leave reviews, making it easy to act on any complaints that may arise.
A great way to satisfy the needs of customers who prefer online interactions and quick responses is integrating a chatbot or digital support to your website that can act as customer support. This enhances your professionalism as a business and creates a positive company image.
8. Competitive Advantage
The digital space evens out the playing field for both huge corporations and small enterprises in terms of customer acquisition. With a working digital marketing strategy and a well-designed website, you can beat competition and stand out from similar small businesses in the industry.
The convenience and efficiency of your business will attract more customers, boost your productivity, and increase your revenue. As such, you can equally compete with bigger and more established companies in the digital space while growing your brand offline.
9. Sourcing of New Talent
Your business website can serve as a platform to source new talent for your company. You can do this by creating a career section on where you advertise job opportunities, and where potential candidates can apply.
A career section on your website makes it more convenient for potential employees to find and contact you. What's more, you get a wider pool of talent to choose from when you advertise vacancies online, giving you the chance to select the best people for the job.
A website can spur the growth of your small business in more ways than one. If you need a website for your small business that informs, engages, and drives conversions, we can help you create an online presence.