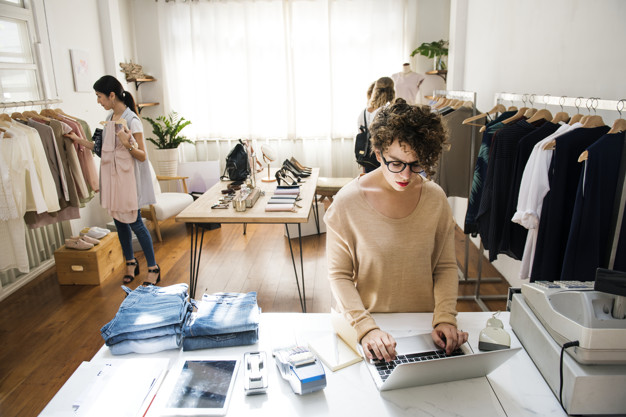 Top 15 Retail Store Design Ideas from the Pros
The appearance of your retail store design can encourage or break your customer's buying decision. It is, therefore, important to put more thought when designing your establishment so that you not only tell your brand's story but also boost your sales. Here are 15 retail store design ideas that will positively impact the success of your retail store.
15. Introduce Speed Bumps
Speed bumps slow down the shoppers, making them spend more time in your store which makes them spend more. They can be in the form of special displays that give your customers a visual break and encourage impulse buying. For example, a digital display of products at the back to complement the ones on display and spark shoppers' curiosity.
14. Change Your Lighting
Light bulbs are a quick way to transform the appearance of your store since light can enhance the look of any product. Your products and the quality of their colors will be more visible to your clients under bright light. You can simply achieve the lighting you desire with a simple light-bulb change and enhance important aspects of your retail store by using spotlighting and uplighting.
13. Creative Displays
How you showcase your merchandise doesn't have to go the typical shelves-and-racks way. Go deeper and find out what feelings your products evoke, then go ahead and incorporate the ideas into the way you showcase your wares. You can customize your display options to reflect your brand as well as the intended look. Instead of shelving all your wares, find creative ways to display them.
12. Embrace Nature
Customers have been shown to associate "green" retail store design with higher worth. You can place living plants in merchandising areas, or in display windows. Plants can help your customers connect with nature while shopping and purify the air inside the store.
11. Incorporate Music and Scents
Other than having a calming effect, music can influence what customers buy and how much they spend. Classical music, for example, has been associated with sophistication, meaning customers who get into these stores are ready to spend more. Bring in a few speakers into your store and play the music that resonates with your clients.
Strategically placed oil diffusers will release scents that are not only pleasant but mind-changing. Clients are more willing to buy in scented spaces than odor-free ones. The design doesn't have to stop with how your store looks like. Appeal to your clients' senses with music and pleasant scents!
10. Create Paths
A well-thought-out path in your store depicts order and eases navigation inside the store. When creating paths for your clients, ensure that your goods are well displayed and getting maximum exposure from the arrangement. You can accessorize pathways with rugs to make them more inviting.
9. Create an Accent Wall
Draw attention to a specific part of your retail store design by either painting, using special fabrics and wallpapers or concentrating boldly-colored products against a plain wall. Depending on the colors you choose, your accent wall can either enlarge or diminish your space. Complement your accent wall with the rest of the store furniture for a well-put-together look.
8. Use Glass and Mirrors
Mirrors and glass can make a small space appear larger. You can put mirrors near sources of natural light so as to maximize natural lighting inside your store. Clients can also use the mirrors on your walls and shelves to try on their new outfits. Glass comes in handy when dividing spaces and also as shelves for a clean elegant look.
7. Have a Theme
Choose a theme that represents your brand and tells your story. Draw inspiration from your products and choose a unifying theme. You can go for cools colors like blue for winter products for example or warm wood hues for a rustic comfortable feel.
6. Reduce Clutter
Bulky displays and crowding products cause clutter and give a negative impression to your clients. Reduce clutter by utilizing the vertical space and displaying items by hanging instead of shelving. For a large number of products with different varieties, consider displaying one item for every variety instead of the entire tock.
5. Recycle and Re-Use Old Items
You don't have to throw away store furniture and display equipment when you get new ones. Find a way to recycle or re-use them to add character to your store's design. You can use old chairs to display your wares in a fun way.
4. Leverage on Technology
From digital display signage to QR codes on your products, technology can add to your retail store design and make the shopper's experience more personalized. Clients can scan QR codes on the items displayed on your window and get to making a buying decision.
3. Art
Whether it is a wall painting or an abstract art design for your display, introducing art into your retail store design is bound to spark the interest of your customers. Ensure that the art you choose complements the rest of your store without inappropriately sticking out.
2. Create the Window-Illusion
If your retail store design has less or no windows, you can create the window-effect by draping long mirrors. Hanging geometric frames can also do the trick and open up your retail store spaces.
1. Use Faux Panels
Spice up your store's walls with faux panels instead of the ordinary white or cream. Faux panels add texture to your walls and give you the look you desire. There are a variety of faux panels to choose from ranging from brick to stone and wood that perfectly fits your business.
Your retail store design can determine whether you receive store traffic or not. Put effort into your designs by hiring professionals to do it for you and boost your sales in the long-term.